It was March 16, 2011 when fellow CVR team member Ilsa Hess told me that the kitchen in a bar in mid-town Sacramento, which had been closed for some months, was launching a vegan menu on St. Patrick 's Day. That's tomorrow I was thinking. How perfect the world seemed at that moment.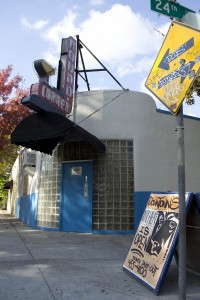 Well, corn beef and cabbage won out on St. Paddy's day but later that week the kitchen in the Round Corner Tavern, which we now know as Downtown's Kitchen, launched their vegan menu and we were eagerly standing by to sample the goods. The Round Corner soon became a favorite hangout of the young bohemian vegan crowd (we call it just "RC"). This is the go-to spot to meet up with friends for an informal visit. Now the menu has evolved a little since opening day but definitely for the better. My dining friends and I never missed an opportunity to offer suggestions on presentation and which vegan condiments we considered the finest available. Downtown's Kitchen listens to their customers and are happily serving up the finest vegan diner food around, perhaps the only vegan diner food around. Where else can you enjoy BBQ tofu sandwich and some dangerous loaded vegan nachos with your cold bottle of Stella? The food is inexpensive, tasty and the perfect accompaniment for a round of drinks with friends. Of note are some of the smaller items that make great appetizers.
An appetizer that is not to be missed is the Potato Tacos; just enough to hold you over without filling you up. You can also get Veggie Lumpia, Sweet Potato Fries, Fried Tofu Stix and more.
One of the top sellers is the Falafel Sandwich Combo. Crispy fried falafels served in a pita with fresh condiments and a tangy "goddess" sauce. Carlos explains one of the simplest sandwiches on the menu is also likely the most popular. The Vegan Boca Burger Combo is a simple diner style burger with vegan mustard, vegan mayo, ketchup, lettuce, onion, and pickles. You can get it with vegan cheese and bacon too.
Owner Carlos Lopez explains that when reopening the kitchen, he and his partner, Laura Bellini, initially planned on doing an entirely gluten-free menu but felt that the focus might be too narrow to satisfy the hungry bar crowd. Splitting the menu between "carnivore" and "vegan" would strike the perfect balance; satisfying everyone yet still offering something unique and bringing in a diverse clientele. Carlos tells us that the vegan items are currently selling as well as the non-vegan items on the menu however the popularity of the vegan items is increasing over time. Come check them out. If you want to blend in with the regular vegan crowd wear your vegan black.
Now aside from the great vegan food, the Round Corner Tavern is what some would call a "dive" bar. This is not the fine dining experience you'd be saving for your formal occasions but they have pool tables and a seriously killer jukebox. Downtown's Kitchen is located inside the Round Corner Tavern at 2333 S Street in Sacramento (corner of 24th and S St.)