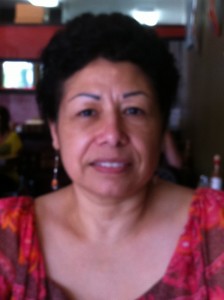 Meet Marina Winchester, owner of Café Capricho.
Prior to her restaurant's grand opening in May of 2010, Marina was a caterer. She has enjoyed cooking throughout her life, and has been most inspired by her grandmother.
Marina especially enjoys the challenge of creating food that is fun and delicious for people with different dietary needs. She loves being able to accommodate her grandchildren, who are gluten-free, and also friends with food sensitivities. She strives to meet people's various dietary preferences, whether it be for health reasons, religious beliefs, or just what they like to eat.
For these reasons, Marina is excited to participate in the Challenge. She is eager to help promote awareness, so that Sacramento vegans will have more options at more local restaurants. She would love to see Sacramento become as savvy as San Francisco with its food options.
Her favorite cusine to prepare is middle eastern, especially because of the cultural philosophy of really taking time to enjoy each other and their food. She has a menu in mind that will be a fusion of different cultures.
Marina's dream is to have people "smile without words" when they hear 'Café Capricho.'
See an excellent review for Cafe Capricho published 10/9/11 in the Sacramento Bee: http://www.sacbee.com/2011/10/09/3966375/sacramentos-cafe-capricho-masters.html
&nb