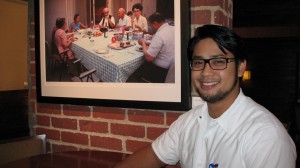 Chef F.J. of 58 Degrees & Holding Co. has bigger things on his plate this weekend than Chef Challenge: He's getting married October 1st to his sweetheart, Janine, sous chef at Fat's Asia Bistro. Congratulations to the happy couple!
Chef F.J. loves his job at 58 Degrees, his restaurant home for the past 4 years. He "works with good people who are passionate about food & wine." He's been the Executive Chef since January 2010, and enjoys the "total creative freedom" of his position. "We combine flavors here, and like to combine French technique with Asian influence & flavors," says F.J. Cooking has always been fun for him. Lately, he's been experimenting with Latin/ Central American flavors~which he says are similar to Mediterranean.
He recently created an heirloom tomato salad, and brightened it up with innovative twists: he added farro, and a balsamic whip cream. He says the eye-appealing dish had "layers of flavor and texture," and "represents what we do here with innovative subtleties & techniques. "
This is F.J.'s first cooking competition. He's looking forward to competing with Billy from Kru: "He's awesome! Billy is one of the guys that has really inspired me out here in Sacramento." He is also inspired by his grandmother, who raised him. He says she is a strong, intelligent family-oriented woman who provided the roots and foundation. "Family is why you are the way you are," says F.J. He notes that when his mom was pregnant, she took cooking classes from Biba. His stepmom has a Filipino Pastry & Cupcake shop in the Bay area.
Chef F.J. is highly conscious of what he's putting into other people's bodies. He's excited about the Challenge because it affords him the opportunity to create menu items that are healthy and "a little different from what we're accustomed to." He's especially proud of once hosting an entirely vegan party at 58 Degrees. Chef F.J. says, "The great thing about vegans is that they're so appreciative. They provided honest feedback (re: the menu) and really enjoyed it!" He plans to continue the dishes he is creating for the Challenge on his menu afterward.
On his drawing board for the Challenge: Smoked Tofu in the style of Korean BBQ, served with Seaweed Rice; "Toron," Banana Fritters; Vegan Chocolate Mousse and/or Peanut Butter Gelato made with almond milk.
For their honeymoon, F.J. and Janine are embarking on a restaurant tour of Napa Valley down the Pacific Coast. They intend to "Enjoy each other's company and OTHER people's food!"