I do like Caribbean food and will go out of my way to find it authentically prepared. Being vegan excludes a person from indulging in many Caribbean dishes simple because meats and seafood are often the main or a key ingredient in many traditional Caribbean dishes.
There is however a whole category of Caribbean cooking which virtually assures adherence to a vegan eater's strict guidelines. From the Rastafari culture we get the term Ital. Food prepared in accordance with Ital guidelines should not only be vegan but organic as well.
When reviewing a Caribbean menu simply look for those items than are served, or can be served Ital.
I recently had the opportunity to return to The Breadfruit Tree at the Paradise Point Marina complex north west of Stockton. I do not know how long it has been under current ownership and management but the location has been a Caribbean restaurant for many years and I had either there several times many years ago.
I checked the menu online and was please that there were three Ital entrées listed.
The seating at The Breadfruit Tree is quite limited but there is overflow outdoor seating and the evening of my visit was comfortable with gentle warm breezes blowing off the Delta. In fact it was a record high that day, feeling quite Caribbean.
The restaurant was very busy by the time we arrived around 6:30 p.m. One of the staff told us it would be a 20 minute wait before our order could be taken. That's fine. It was l pleasant outside and everyone seemed to be enjoying the food and company. It was not long before another patron came outside to where we were seated and told us a table was becoming available inside. How thoughtful. While it was nice outside we accepted the table inside in the hopes that we might get served sooner. It wound up being 45 minutes before we our drink order was taken and another ten minutes before out food order was taken when the waitress came by with an unusually large white board with the night's menu hand written on it. My dining partner and I had already decided what we would order from the online menu. She would have the Roti and I was going to get the Mespo, both served Ital, but neither of these appeared on the hand written menu. I told the waitress we were vegan and asked if the Peleau on the hand written menu was the only vegan item on the menu. She confirmed that it was so we ordered two orders of the Peleau. The Peleau was simple – stir fried rice with fresh mixed vegetables. It was quite good. The blend of spices was just right. I would give that particular dish a high rating. But considering the long wait, unavailability of menu items and the fact that our salads needed to be sent back because they were served with a non-vegan dressing and my dining partner's drink was served with rum when it was supposed to be non-alcoholic. . . well, it was a bit disappointing overall.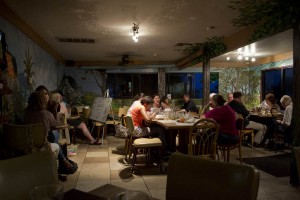 The Breadfruit Tree is open Tuesday through Saturday, closed Sunday and Monday.
8095 Rio Blanco Rd.
Stockton CA 95219
(209) 952-7361