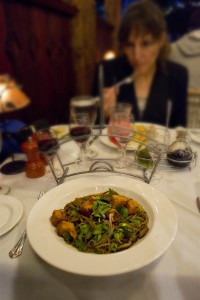 The Shadowbrook Restaurant in Capitola has been an institution of fine dining for many years but it is probably not the first place that pops into your head when considering where to dine vegan for dinner.
I had not been to Shadow brook since the early 1980s, long before I was vegan and even before I became a vegetarian but I happened to be staying a few miles away and thought I would check out their menu. I was pleased to see a vegetarian section on their menu and even one entrée clearly marked as vegan. Since its inception in 1947 Shadowbrook has always indented to be, above all, a place for romantic dining and the ambience of the place is indeed undeniably romantic. It clings to the very steep west bank of Soquel Creek. Visitors can enter from street level by two methods, a series of steps though an impressive garden of tropical and exotic plants or via the picturesque Shadowbrook Railway – a small cable car added in 1958. I recommend arriving by the steps and departing via the railway. Few would argue that Shadowbrook is hands-down the most romantic dining venue in the Santa Cruz area.
While I'm pleased to see any eatery adding vegan options to their menu I would prefer to see as many vegan options as possible or at least variations on other popular dishes to make it vegan. With this in mind my dining party decided we would select the vegan labeled entrée – Grilled Tofu Soba and another vegetarian item that appeared to be a natural vegan conversion – Summer Garden Plate.
The wait service was attentive and I notified our waiter at the outset that we were vegan, which he seemed to appreciate and I continued to challenge the young man with questions about ingredients in the dishes which may be not be vegan.
There were few glitches. My date ordered a alcohol-free pina colada and we were surprised when it came with a large dollop of whipped cream on top. She said she was willing to simply scoop it off. When our waiter returned he offered to remove it for us but then paused in thought for a moment before notifying us that the drink mix contained cream and that it was premixed. He offered to return with another alcohol-free cocktail in its place so it was soon replaced with a strawberry daiquiri.
The Summer Garden Plate was described on the menu as, "sunchoke puree, pickled baby beets, roasted cippolini onion, quinoa stuffed summer squash". I asked if there was anything in the dish would make it non-vegan. The waiter said that it was indeed vegan but later returned to let us know the main ingredient, the summer squash, was cooked in chicken broth (why?). Fried silken tofu was substituted for the squash which significantly changed the character of the dish.
The vegan Grilled Tofu Soba I ordered was good and a welcome sight on the menu but it seemed to be rather obligatory. Silken tofu was used, likely because of its long shelf life and was fried rather than grilled. I cannot help but feel that this was not the original intent as it is nearly impossible grill silken tofu. It was described on the menu as "marinated" but it was not evident that it was.
The highlight of the night was the appetizer of Roasted Wild Mushrooms which can also be order as a side in a much smaller portion. I love mushrooms and the mixture was roasted in olive oil with a savory blend of herbs and spices that did not overwhelm the delicate and distinct flavors and textures of the various mushrooms. This appetizer was executed perfectly. It should be noted that Shadowbrook strives to use non-gmo, organic local ingredients wherever possible. The mushrooms were local and very fresh.
Shadowbrook is, without a doubt, an extraordinary dining experience. It is beautiful, elegant and romantic. They don't need to provide vegan options to increase or sustain their patronage. The place is always packed. It is good to see the trends toward increased veggie options but clearly there is work to be done.
The vegan dining public is the most powerful voice of change in vegan restaurant outreach. Every opportunity should be taken to alert restaurants to the potential for increased patronage and respected reputation that results from not just accommodating vegan diners but instead showcasing sophisticated vegan dishes that will appeal to vegans and non-vegans alike. Every time a vegan dines out there is an opportunity to educate wait staff as well. For this reason we should all considering straying a little beyond our comfort zone at times. Challenge chefs to take pride in their craft. Challenge wait staff to really know the menu, to be cognizant of vegan needs. Everyone benefits in the end.
Shadowbrook is located at 1750 Wharf Road in Capitola. Reservations are strongly recommended and do arrive early as parking is challenging and times and you may need to park a few blocks away as the parking lots do fill up.
Shadowbrook Restaurant
1750 Wharf Road
Capitola-by-the-Sea, California 95010
(831) 475-1511