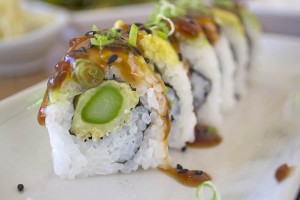 Some vegans know that one can often find something vegan among the offerings at most Sushi restaurants but many feel that it is a compromise to settle for the old stand-bys like Inari or Kappa Maki. Don't get me wrong these standard vegan rolls are tasty enough, and great for kids, but personally I find them a little short of exciting. The good news is that most Sushi chefs are more than happy to make something special for you if you ask for it. I often just tell the chef that I am vegan and to surprise me. I am always rewarded for my faith in the artistry of the chef with something that is not only delicious but creative as well. For those of us in Northern California, Cha-Ya in Berkeley and San Francisco sets the gold standard for vegan Japanese food. Personally, I just don't think it can be done any better, not just for the sushi but because the entire menu is vegan and extraordinary in its presentation and flavor.
However, there is a new sushi restaurant in Chico that takes vegan sushi very seriously and the Chico vegan community is a singing the praises of Aonami Sustainable Sushi. At Aonami vegan sushi is not just a happy accident or afterthought. While the menu is not entirely vegan, vegan sushi is certainly a priority. Vegan offerings are the first thing you see on the menu, grouped into its own category and throughout the menu vegan items are clearly identified. But don't look for the Inari or Kappa Maki because you have stepped in to the realm of what could rightfully be labeled as artisan vegan sushi.
The vegan rolls are named after roads and highways local to the area making Chico vegans feel the pride of having these wonderfully creative and tasty rolls developed in their hometown. Aonami has even put a twist on a traditional appetizer. While you can get plain old boiled and salted edamame I recommend the Spicy Garlic Edamame. Try the white miso. It's simple, delicious and entire vegan too.
Aonami Sustainable Sushi is not only a great destination for dining parties that are entirely vegan but also a sure bet to satisfy all sushi connoisseurs, vegan or not, and no one will feel that they have compromised.
Aonami Sustainable Sushi is at 1008 W Sacramento Ave Ste. H in Chico.
(530) 924-3168