Divino was much anticipated even before it open in the location on University Avenue in Berkeley, California that previously had been Fellini. I've been trying to make it to Divino but my planning has been a little haphazard. A friend and I had planned on dining there on the night they opened but we were a little too early – by one day. The next time I was passing through Berkeley on my way to the City I thought I would try it for lunch but they were only opened for dinner. Well I finally managed to make it there for dinner this evening which also just happened to be the first day they have opened for brunch.
Divino's menu is unmistakably Italian but a fair number of items are, or can be prepared, vegan. All of their pizzas can be prepared vegan and a few other entrées as well.
My party of two decided to get Pizza Salsiccia – fresh vegan sausage and caramelized onions with vegan mozzarella. The pizza was simple but perfect in its simplicity. Onions were deliciously sweet and they have chosen a vegan sausage that would likely please omnivores and vegans alike.
The highlight however was my chosen entrée – Smoked Portobello Mushroom with a creamy polenta and rainbow chard. Presentation was beautiful. I sometimes forget how pleasing and sophisticated a good polenta could be but this was polenta at its finest. It was creamy yet had a coarser textured within and fresh corn taste. The polenta is not overly "seasoned" with salt but rather well complimented by a drizzle of balsamic vinegar and accompanying a grilled and sliced smoked Portobello cap. The mushroom was treated as one might treat a tastefully seasoned fine cut of meat in other culinary disciplines. It delivered the message perfectly that meat is unnecessary. With the Portobello and polenta, rainbow chard was chosen as the accompanying vegetable. I am admittedly a chard fan and this chard did not fail to please. Chefs and restaurants often tend to overcook leafy greens but here the chard was tender yet still retaining some crunch and a bit of the unmistakable chard bitterness – just a bit of the flavor that I like in chard. Again the saltiness was just enough to enhance and I'm not certain of the other seasonings used but I think I detected a hint of horseradish. It was delicious.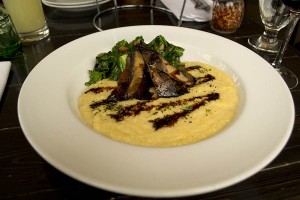 I spoke with Marco, the owner of Divino and discovered that he shares a philosophy with me, a practice I strive to employ in my own cooking which is to trend toward less salty and less sweet for the added flavoring as the diner can always add saltiness or sweetness to suit their own taste by adding condiments. You can always add these flavors to the food but you cannot remove them.  He even explained that his lemonade, made fresh in house, trended toward tart rather than sweet. I found it to be perfect just as it was. Another trend that Marco employs is to use fewer processed ingredients and to optimize the recipes to effectively use fewer but tactfully proportioned ingredients.
Divino is now serving brunch on Sundays and the menu is evolving so check their website for the latest. They may even expand the brunch to other days in the future.
East Bay vegan diners are fortunate to have a variety of vegan dining options and Divino is now on my list of favorites.
Divino is at 1401 University Avenue in Berkeley California.
http://www.divinoberkeley.com/