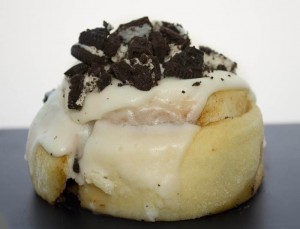 Well, I don't know if you could really call it a restaurant. There are not too many things on the menu because this is a specialty shop. What they specialize in is done exceptionally well and it is done with an enormous variety of options. They do Cinnamon Rolls – Decadent, calorie rich, sugary, chocolaty, nutty, fruity, sweet goodies.
Cinnaholic in Berkeley is a Northern California institution that, while not a vegan dinner destination, is often included in one's East Bay vegan dining plans.
With nearly 30 frosting flavors and even more different toppings the number of possible combinations is mind blowing. Some of these options that come together especially well make up the menu of named specialty rolls.
This is the place where vegans go the take care of their sweet tooth and where they bring their omnivorous friends and family to prove that vegan food does not have to be either boring or healthy. Still, with the omission of all animal products, you can satisfy your vice in a healthier and cruelty-free way. A visit is a perfect way to celebrate you birthday too. Show them your ID on you birthday and your Cinnamon roll is free.
Located just a few steps away from the UC Berkeley Campus and within walking distance of many shops and restaurants, Cinnaholic is perfectly situated to serve the multitude of students, diners, shoppers and business people who make up the pedestrian and bicycle traffic of downtown Berkeley. And Cinnaholic is truly accessible to everyone in the greater bay area without the need to drive the often clogged roadways as they are literally just one block east of the BART station.
Cinnaholic makes a very important statement with their service: If such mouth-watering, decadent sweet baked goods like this can be created vegan why would anyone want to do it non-vegan?
Cinnaholic is at 2132 Oxford Street in Berkeley. They are open from 10am to 7pm Tuesday thru Sunday and closed Mondays.
Phone: (510) 647-8684‎